How This Artist Treats Her Adult Acne And Embraces Her Natural Hair Texture
AVISO LEGAL
Este blog não foi aprovado pelo departamento de saúde local e não se destina a fornecer diagnóstico, tratamento ou orientação médica. Saiba Mais

Este blog não foi aprovado pelo departamento de saúde local e não se destina a fornecer diagnóstico, tratamento ou orientação médica. O conteúdo fornecido neste blog é apenas para fins informativos. Consulte um médico ou outro profissional de saúde a respeito de qualquer diagnóstico ou opção de tratamento médico ou relacionado à saúde. As informações contidas neste blog não devem ser consideradas como um substituto para as orientações de um profissional de saúde. As afirmações feitas sobre produtos específicos neste blog não são aprovadas para diagnosticar, tratar, curar ou prevenir doenças.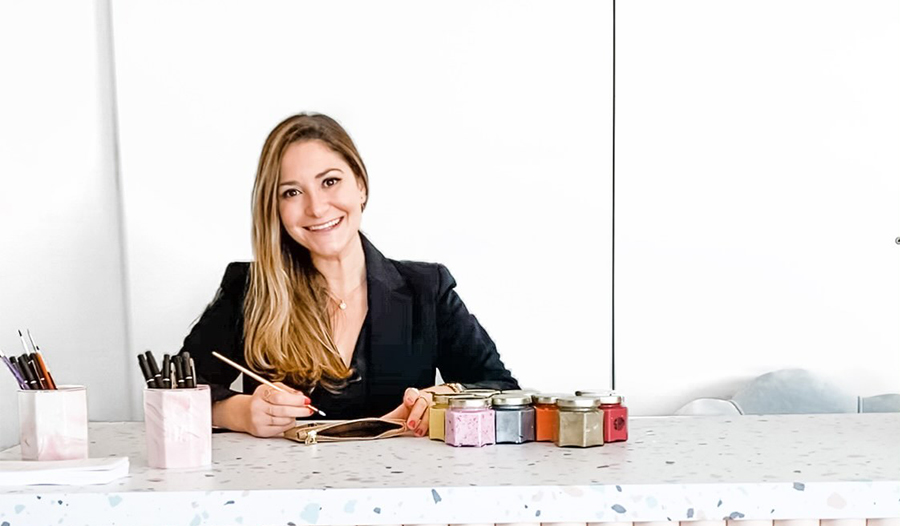 Samantha Machover has built a business based on her speed. But she's not a runner or a race car driver: she's an artist.
As an art major in college, she focused on painting, and what she learned is that she can paint fast. What started as creating art for friends turned into bulk orders from companies and later, onsite events where she'd quickly create personalized branded merchandise for companies like Peloton and L'Oreal.
Samantha's creations have generated a lot of buzz in outlets like Marie Claire, Good Morning America, and Business Insider. Though the pandemic has put the pause on the onsite event portion of her business, she has pivoted quickly to creating art at home, both for large corporations and for customers of her Etsy shop.
We talked to Samantha about her skin concerns, routines, and how she winds down after a long day of painting.
What Does a Typical Day Look Like for You?
It's funny, because I've always worked from home anyway, so things aren't so different now. I don't go to meetings or events now, obviously, so I'm just home working all day. I just put the TV on—I always have reality TV on while I'm working, because if I have a good show or a good movie on, I wouldn't work, I would just watch the show or movie.
Of course, then I got addicted to reality TV. I'm not really watching, but I'm absorbing all the information subconsciously while I'm working and now I'm invested.
What's Your Biggest Skin Concern?
I have the curse of adult acne. So that's what I really focus my beauty routine on. I wish I could use products like anti aging serums, but I just want to not clog my pores as much as possible.
No one talks about adult acne. I never had a pimple my entire life. Not even when I was a teenager and now every day, I wake up with it. I've noticed that wearing a face mask is making me break out, too. So now I don't even put makeup on because I don't want makeup and oil to mix under the mask.
What's Your Daily Skincare Routine?
I actually have an autoimmune disease—MS—so I try not to use a ton of products overall. I use mostly anti-blemish products. I start with a facial scrub. Then I use witch hazel for toner. I also use a lip mask. It's actually a night lip mask, but I use it all day and night. I don't use a moisturizer because I have an oily complexion. But I do use a hydrating facial mist for a refresher throughout the day.
At night, I use my facial scrub and then an acne spot treatment. And once a week, I use the Philosophy Renewed Hope in a Jar face mask. I use a lot of Philosophy products. I worked with them last year—customizing cosmetic bags at one of their events—and they gave me a ton of products.
Before the pandemic, I was going for dermabrasion facials once a month, but I haven't been able to do that recently. I also really like face masks with ingredients like tea tree oil and charcoal.
Before We Had to Wear Masks Everywhere, What Was Your Makeup Routine?
I didn't wear makeup every day, but I would for business meetings and events. I really like foundation—foundation and mascara are my beauty products of choice. I don't use a primer or anything. In the past, I had eyelash extensions, but then I just started putting fake eyelashes on myself. Being an artist, I'm pretty good at doing my own makeup. Depending on how fancy the meeting or event was, I would wear some eyeshadow, too.
You Have Really Long, Gorgeous Hair. How Do You Take Care of it?
I get balayage done on my hair, so I try to keep it healthy. I use shampoo for color-treated hair and hair masks all the time. I spend a lot of time and money on my hair.
I really did try to go like the all-natural route with my hair, but it didn't work out. The products I was using weren't ruining my hair, but they weren't helping it, either. They weren't adding the smoothing or anti-frizz aspect that I needed.
My hair has gotten a lot curlier since I started coloring it. I can't even straighten it anymore. I worked with Moroccanoil right before the pandemic, and they gave me a bunch of products. I really love the Intense Curl Cream.
I usually just air dry my hair, and I never go to sleep with my hair wet. I put it in a low ponytail when I sleep.
What Do You Do for Self-Care?
I go on walks a lot. I'm not huge into working out, but I try to hit my 10,000 steps every day. With my health insurance, you get a dollar for every time you hit your steps, and I love a challenge. My mother lives nearby, so we go to Central Park and walk together.
I also drink a ton of water for overall well being. I recently got a gallon bottle to see how much I actually drank. And it turns out I drank two gallons a day. My friend who is a dietitian told me that's not okay. I think at some point it just flushes out all the nutrition that you're consuming. You want a balance. I knew I was drinking an alarming amount, but that was really too much.
At night, I drink chamomile tea and spray my pillow with lavender to help me destress and fall asleep. And I don't do the whole unplug two hours before bed thing, but I went to a lecture once and they said that you should put your phone in airplane mode to sleep better. So, I do that, too, to help with sleep.